MONDAY MOTIVATION: NEW YEAR, NEW YOU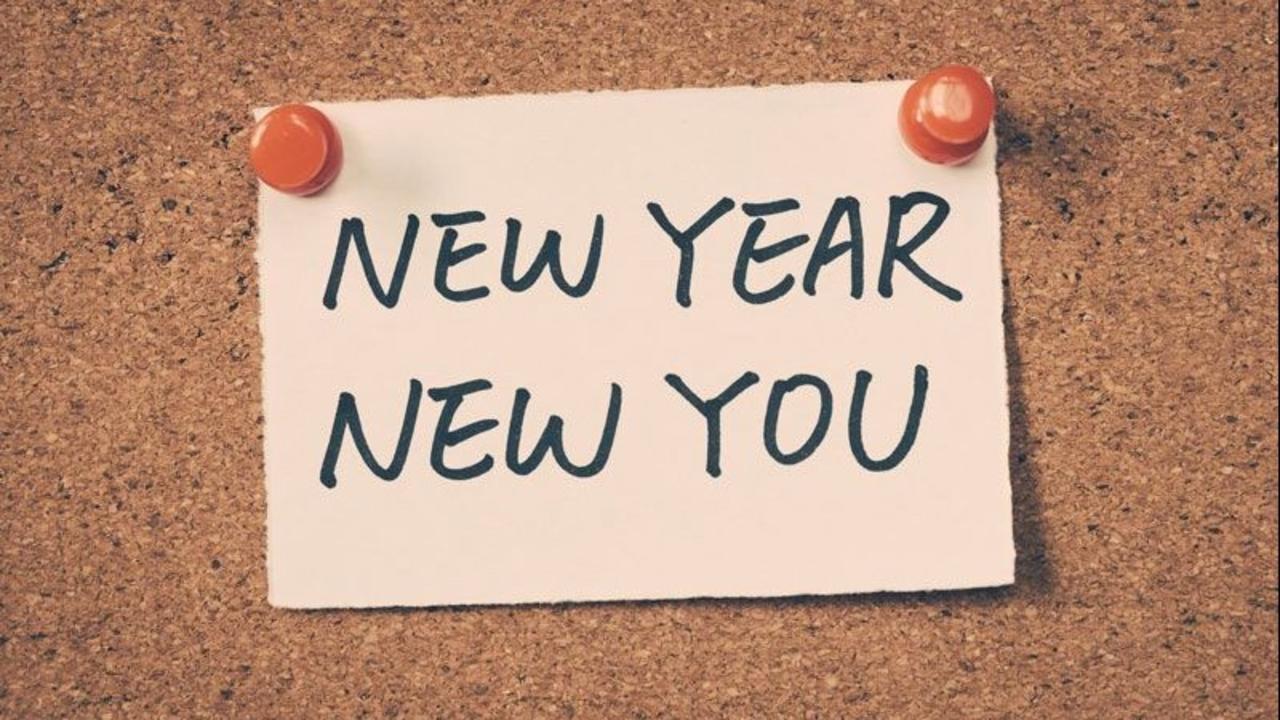 How you start the year impacts how the rest of the year goes. We are a triune being - mind, body and soul. It's important to invest in each area of your life to live your best life! Which is why in the month of January, we took 21 days to pray and fast to put our focus on God.
Jesus was asked what is the greatest commandment, "Love the Lord your God with all your heart, soul and mind."
Matthew 22:36-38, "Teacher, which is the greatest commandment in the Law?" 37 Jesus replied: "'Love the Lord your God with all your heart and with all your soul and with all your mind.' 38 This is the first and greatest commandment."(NIV)
Stats: Average American lives to be 74 years old.
24 years sleeping. We sleep 1/3 or our life.
24 years working. We work 1/3 of our life.
10 years of our life watching tv. 1/7 of our life. 2,000,000 commercials.
That's 58 years… That only leaves about 16 years. What do we do with the rest of our time?
51% exercise 3 times a week. But 30% exercised 0% last year. No exercise at all.
King Solomon built the first Temple. The temple has been rebuilt and destroyed. It was first destroyed by the Babylonians and King Nebuchadnezzar. Later it was destroyed again by the Romans in 70 AD.
What if the Temple would be rebuilt in our lifetime? And what if you were in charge of managing the Temple and taking care of it? What would you do? Would you take it seriously? Would you make sure there was a plan? Or would you just treat it like any other building?
The Bible says that YOUR BODY IS THE TEMPLE OF THE HOLY SPIRIT!
1 Corinthians 6:19-20, "Don't you realize that your body is the temple of the Holy Spirit, who lives in you and was given to you by God? You do not belong to yourself, 20 for God bought you with a high price. So you must honor God with your body."(NLT)
Why should we take care of our bodies?
Because…
GOD LIVES IN YOU!
When you pray to receive Jesus as your personal Savior the Holy Spirit comes to live inside of you.
Who is the Holy Spirit? The Holy Spirit is a person not an it.
The Holy Spirit is God and is part of the trinity.
When the Holy Spirit comes in you He provides several things…
He provides Comfort.
John 14:26, "But the Comforter, even the Holy Spirit, whom the Father will send in my name, he shall teach you all things, and bring to your remembrance all that I said unto you."(ASV)
John 16:7-11, "Nevertheless I tell you the truth. It is to your advantage that I go away; for if I do not go away, the Helper will not come to you; but if I depart, I will send Him to you. 8 And when He has come, He will convict the world of sin, and of righteousness, and of judgment: 9 of sin, because they do not believe in Me; 10 of righteousness, because I go to My Father and you see Me no more; 11 of judgment, because the ruler of this world is judged."(NKJV)
John 16:13", "However, when He, the Spirit of truth, has come, He will guide you into all truth; for He will not speak on His own authority, but whatever He hears He will speak; and He will tell you things to come."(NKJV)
Ephesians 1:13-14, "And you also were included in Christ when you heard the message of truth, the gospel of your salvation. When you believed, you were marked in him with a seal, the promised Holy Spirit, 14 who is a deposit guaranteeing our inheritance until the redemption of those who are God's possession—to the praise of his glory."(NIV)
Acts 1:8, "But you shall receive power when the Holy Spirit has come upon you; and you shall be witnesses to Me in Jerusalem, and in all Judea and Samaria, and to the end of the earth."(NKJV)
1 John 4:4, "You are of God, little children, and have overcome them, because He who is in you is greater than he who is in the world."(NKJV)
WE BELONG TO GOD!
Think about that for a moment. He are a child of the King. We are a child of the Heavenly Father. We belong to Him. We are a part of His family. You have an eternal inheritance.
I love how the message translation puts it…
1 Corinthians 6:19-20, "Or didn't you realize that your body is a sacred place, the place of the Holy Spirit? Don't you see that you can't live however you please, squandering what God paid such a high price for? The physical part of you is not some piece of property belonging to the spiritual part of you. God owns the whole works. So let people see God in and through your body." (Message)
BECAUSE GOD HAS CALLED US TO DO GREAT THINGS FOR HIM
There is more to salvation than just going to heaven. There's more to being a Christian then just conversion. There's a reason why we are left on this planet. God has not only saved you but He has called you!
I believe many Christians live saved but they don't live called.
I was a child when I was saved. But I didn't start living out that calling until I was about 18 years old.
2 Timothy 1:9, "For God saved us and called us to live a holy life. He did this, not because we deserved it, but because that was his plan from before the beginning of time—to show us his grace through Christ Jesus."
I WANT TO SEE THE GENERATIONS COMING BEHIND ME MAKE A DIFFERENCE
I want to live long enough to see my children, and my grandchildren and my great grandchildren serve God and make a difference for Him.
I'm so blessed that my dad lived long enough to see us start C3. My dad served as a Minister for 54 years and he lived to the age of 79.
I will never forget when He came into our building and with his health fading but his wit wasn't. They wheeled him up on a wheel chair and he stood up and walked to the front of the stage and said, "I kinda feel like a mosquito in a nudist colony. I'm excited to be here I just don't know where to start."
Here's my prayer…
Psalm 71:17-18, "Since my youth, God, you have taught me,
and to this day I declare your marvelous deeds. 18 Even when I am old and gray,
do not forsake me, my God,
till I declare your power to the next generation,
your mighty acts to all who are to come."(NIV)
I WANT TO HAVE THE ENERGY TO FINISH STRONG
2 Timothy 4:6-7, "For I am already being poured out like a drink offering, and the time for my departure is near. 7 I have fought the good fight, I have finished the race, I have kept the faith."(NIV)
I don't want to be a burden on others because I didn't care for myself.
Not taking care of yourself is actually the most selfish thing you can do.
Jack LaLanne lived to be 96 years old. He was a fitness pioneer and worked out 2 hours a day into his 90's.
"I know so many people in their 80s who have Alzheimer's or are in a wheelchair or whatever. And I say to myself 'I don't want to live like that. I don't want to be a burden on my family. I need to live life. And I'd hate dying; it would ruin my image.'"
How?
Eat Healthy Foods

– Spend more time in the grocery store around the outside rather than the inside. Fruits and vegetables are great not just during the Daniel Fast.
I love to eat like anybody else and I will eat an occasional Bojangles biscuit. BUT…
Cut out the fast food. You might say well I can't afford to not eat fast food. You can't afford to eat it! The hospital bills and the medical cost later in life will cost you more than eating healthy foods.
ABC News report, "The nation's poor health habits add to waistlines and shrink wallets. According to the latest government numbers, 34 percent of American adults are obese and another 34 percent are overweight. Obese individuals spend on average 40 percent more on health care every year compared with individuals of normal weight. While exercise is nearly free, obesity-related health care costs total an estimated $147 billion annually. The cost of treating diabetes totals some $116 billion.
Everyday Do Something.
Everyday matters.
Planning to exercise tomorrow doesn't do any good. Good intentions will never help you to take care of yourself.
I think the problem many of us have is we set our goals way too high too fast.
Just do something everyday.
Even if it's 10 minutes of walking. Push ups and sit ups.
Do something and do something today.
Don't wait until you feel like it. Just do it.
"Nutrition is Queen, Exercise is King" - Jack LaLanne.
"I know so many people in their 80s who have Alzheimer's or are in a wheelchair or whatever. And I say to myself 'I don't want to live like that. I don't want to be a burden on my family. I need to live life. And I'd hate dying; it would ruin my image.'"
Have a Plan
If you fail to plan you plan to fail.
Exercise 20 minutes at least 3 times a week.
Try to eliminate sugar from your diet.
Cut back on white bread and soft drinks.
Try incorporating part of the Daniel Fast into your regular eating.
Romans 12:1, "Therefore, I urge you, brothers and sisters, in view of God's mercy, to offer your bodies as a living sacrifice, holy and pleasing to God—this is your true and proper worship."(NIV)